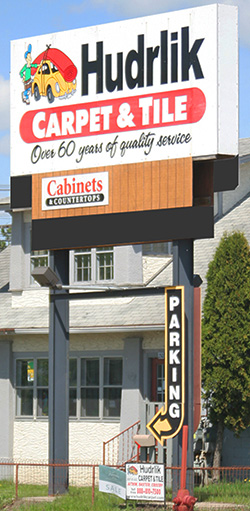 Hudrlik Carpet, Flooring, Tile & Cabinets
At Hudrlik, we provide quality flooring products and service to the Brainerd Lakes area including Aitkin, Baxter/Brainerd, and Crosby.
We are committed to family and community and are deeply involved in all aspects of our beautiful northern Minnesota environment. Our time in the north country goes back quite a few years…
Hudrlik Carpet began in the 1940's when Tony Hudrlik worked for his brother in the flooring business. Tony Hudrlik not only installed floors, but side-lined as a mortician in the Owatonna area.
The carpet was 100% wool and the 29 inch wide sections were sewed together. Padding evolved from straw to horsehair to today's synthetic. Some of this carpet can still be seen today and looks great!
In 1948, mother Elaine (of Baudette, MN) married Tony Hudrlik and they settled in Crosby, MN. They started out in both residential and commercial installation working with some of the famous resorts in the Brainerd Lakes area such as Breezy Point, Craguns, and Maddens.
In the 60's they began selling flooring products to compliment the installation service. The original house on 1st Street was the store. Son Mark Hudrlik took over the business in the 70's.
In the 80's, a warehouse and storefront were added. In the 1990's the addition of cutting equipment rounded out Hudrlik Carpet as a full service flooring company.
The Brainerd, MN store was opened in 2000 and the Aitkin, MN opened in the fall of 2003.
Call: Brainerd: 218-828-5009
Crosby & Aitkin Store: 888-810-7500